Wet Weather Program, City of Lansing
DC Engineering teamed with engineering and environmental consultants to provide professional services for the City's Wet Weather Program. The project continues Lansing's Combined Sewer Overflow (CSO) elimination program through the incorporation of a Sanitary Sewer Overflow (SSO) control program. Work included design and construction of a new sanitary sewer system and the rehabilitation of the existing system as a storm drain. The project separates the two flows and, when completed, will eliminate untreated sewer overflows to the Red Cedar River and the Grand River.  Read more.
McGuineas Drain, Manistee County Drain Commissioner
DC Engineering was hired to solve three major problems on the McGuineas Drain System:
-Erosion contributing sediment to a nearby wetland.
– A failed section of 30″ storm drain. The bottom had crumbled  and pipe walls were near collapse.
– The trash rack at the drain inlet did not allow normal leaves and woody debris to pass, causing flooding in the drain and over the nearby road.
DC Engineering provided survey, design engineering, and construction engineering. Read more.
Washington Square Redevelopment, City of Lansing

This project successfully converted a downtown pedestrian mall to a roadway for vehicular traffic. The striking two-block section features twelve innovative rain gardens (bio-retention areas) that treat storm water before flows reach the Grand River.
DC Engineering provided design and construction administrative services for this project. Read more.
Stadium District, Mixed Use Condominium, Downtown Lansing
This multi-use building in downtown Lansing features condominium living, apartment rental and commercial offices. The award-winning Stadium District project also includes drive-through food service facilities, outdoor dining and covered parking for building residents.
DC Engineering performed topographic and boundary survey, conceptual planning, site development, site plan review and permitting assistance, construction layout, and record drawings. Read more.
MSU Recycling Center and Surplus Store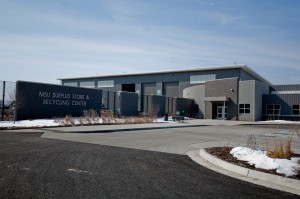 The Michigan State University Surplus Store and Recycling Center fulfills the University's commitment to "the five Rs" – reduce, reuse/recycle, research/re-educate, redesign and rethink. DC Engineering performed construction layout services, including soil erosion controls, clearing, fencing, underground utilities, building layout, concrete flat work, and site grading. Read More.
 Old Town Medical Arts, LLC, USGBC LEED Project
DC Engineering is the Civil Site Engineer and Project Surveyor on the Cedar Street School Redevelopment Project. Originally constructed in 1918, the renovated school is home to two medical practices, a fitness facility, and retail/office space. Old growth trees were preserved and an existing retaining wall was saved to minimize the project's ecological foot print. Improvements feature a rain garden, bio-filtration swale, high solar reflective concrete pavement, and native plantings that will not require irrigation.
DC Engineering performed property and design survey, design engineering, LEED credit templates for site elements, and construction layout. Read more.
Bath Highway Drain
Owner: Clinton County Drain Commissioner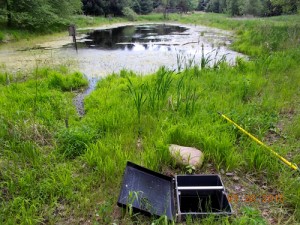 The Bath Highway Drain serves a one-half square mile of rural land east of the Village of Bath. The Drain consists of approximately 4,300 feet of 12″ and 8″ vitrified clay tile drain and 1,000 feet of open ditch. Tree roots penetrated the tile drain, choking flows and causing surface flooding over Clark Road – a county road that bisects the Drainage District. Dangerous flooding over Clark Road prompted the local municipality to petition for drain improvements. Read more.
Elieff Brothers Roofing Headquarters / Home and Business Exterior Professionals
With business growing as the firm added windows and siding to their service offerings, Elieff Brothers determined to expand their office and warehouse spaces.
DC Engineering performed a topographic survey and provided conceptual layout, site plan development, site plan review & permitting assistance, and construction layout. Read more
Punk Taco
Lansing will soon have a new restaurant in the Frandor area. The project team for Punk Taco will redevelop a contaminated "brownfield" site. DC Engineering will tackle the challenge of managing storm water in an extreme urban setting. The site plan will reduce imperviousness, adding landscaping to a previously hardscape surface. Much of the pollution reduction will be accomplished by using a nutrient separating baffle box to treat storm water before discharge. The baffled box captures foliage, litter sediment and other pollutants before discharging the cleaned water to the storm drain system. This method was chosen to avoid disturbing contaminated soils.
The project team will save over half of the old canopy, an architectural element that marries the old with the new. The canopy also provides covered parking. Developers will also re-use and re-purpose some existing infrastructure such as retaining walls and some pavement. The property is currently served by five driveways; the site will be re-engineered to reduce that number to two driveways – an important safety issue at a busy intersection.
B Strong / The Gillespie Company
B Strong is a new fitness facility planned for construction in DeWitt Township. The gym will feature private consultations with celebrity trainers.
DC Engineering will tackle the challenge of site development and storm water management on a massive site near a residential area. "We have to develop in a way that will not invade the neighboring community," said Dave Christian of DC.
Plans are to construct a single story facility with a mezzanine. The site has a severe grade, challenging the designers to develop a buffer between the gym parking lot and nearby homes. The project team is working through details with neighbors and will likely use a combination of fencing and evergreens to minimize trespass light from shining into residences.
Work will extend the public sidewalk from Mesa Verde Drive to the new facility. This will increase connectivity with neighbors and increase safety for pedestrians along this high-traffic stretch of Airport Road.
The project team will build around regulated wetland, preserving its valuable water quality functions.
East Michigan Avenue Revitalization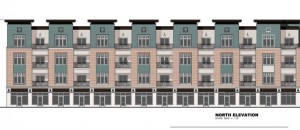 DC Engineering is working with the Gillespie Company to redevelop the 2000 Block of East Michigan Avenue in the City of Lansing. The Block has been a core commercial district and this project has the potential to inject new energy into the area. Read the article from Lansing City Pulse.
The 4-story, $6 million project will be a mixed-use development known as East Town Flats. The development will feature 11,500 square feet of commercial/retail space, along with 39 residential units.
DC engineering will handle site engineering and storm water design. With limited space for green design features, storm water management will be accomplished with turf-grass swales and sub-surface devices that remove pollutants.