Ingham ISD Pavement Rehabilitation Improves Safety for Public School Students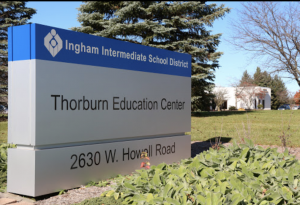 Ingham Intermediate School District (IISD) needed a plan to repair failed pavement, spalled concrete, and drainage problems at its campus in Mason. The repairs would be built into a larger plan and budget aimed at maintaining a safe and welcoming campus for students, educators, and administrators.
"DCE delivered everything they promised, on time and under budget. Their customer service response is great and Kurt Krahulik is absolutely outstanding."

— Steve Rusnock, IISD Facilities & Safety Director
DC Engineering reviewed the site with the IISD project team. We observed:
Distressed bituminous pavement at various parking areas and internal roads,
Spalled concrete surfaces at the special education building bus drop-off,
Premature failing of the recently-reconstructed parking lot northeast of the Thorburn Education Center,
Drainage problems northeast of the Career Center, and
Curb heights (reveals) that did not comply with ADA and/or safety guidelines.
Master Plan for the IISD
DC Engineering (DCE) Vice President Kurt Krahulik, P.E., worked with IISD leadership to develop a three-year master plan and work sequence to address critical areas. "We have to manage our systems with a holistic, site-wide view," said IISD Facilities & Safety Director Steve Rusnock.
DCE used geotechnical evaluation of subsurface features to assess pavement conditions. The resulting composite map guided recommendations for project sequencing and annual budget for future maintenance activities.
Mr. Krahulik designed drainage infrastructure that would reduce or prevent damage due to ponding water or poorly drained soils. The team developed a construction schedule to take place during the school district's summer breaks.
Americans with Disabilities Act (ADA) Compliance and User Safety
The team reviewed ADA regulations and meshed those requirements with design plans and construction sequencing. Krahulik and the DCE team determined areas in need of curb height corrections, sidewalk reconstruction, and ramps where safety railings were required.
Project Start April 28 2017; Project End October 31, 2019.
Ingham ISD / Facilities – Steve Rusnock
Construction Value Approx $765k over three years
DCE Project Manager Kurt Krahulick