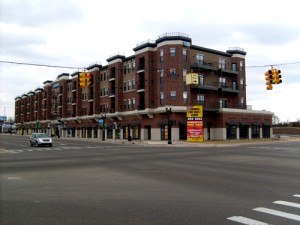 Stadium District Mixed Use Development
The Stadium District is a four story mixed use development by the Gillespie Group. Construction was completed in the spring of 2008. The 100,000 square foot building occupies the entire south side of the 500 block of East Michigan Ave, across from Oldsmobile Park. The building has ground floor retail; the second floor is half office, half apartments; the third floor is entirely apartments, and the fourth floor is comprised of 18 condos with a rooftop patio. Anchor tenants include Fifth Third Bank, Biggby Coffee, and the Lansing Regional Chamber of Commerce.
The Stadium District building and surface parking occupies a 2.8 acre site. Residents of the building enjoy a gated surface lot with carports. The building is complemented by Fifth Third Bank's three lane drive-thru service window at the west end of the building. Biggby Coffee has indoor seating and a drive-thru window at the east end. The site provides parking space for 220 vehicles including 31 covered carports.
Land at the project location was previously developed in multiple small parcels. Redevelopment work utilized portions of the existing infrastructure. Abandoned utilities along vacated alley were identified, cut, and properly capped. Construction precautions were taken to protect a City of Lansing water production well. The front of the building was located 1-foot behind the property line. DC Engineering facilitated coordination with the City of Lansing and with the Michigan Department of Transportation.
DC Engineering provided services including topographic and boundary survey, conceptual planning, site development, site plan review and permitting assistance, construction layout, condominium Exhibit B document preparation, and record drawings.