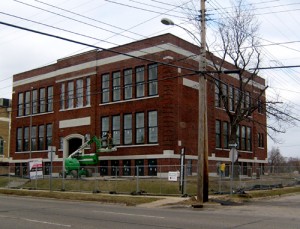 Old Town Medical Arts, LLC redeveloped the Cedar Street School in Old Town Lansing. The renovated school houses to two medical practices, a fitness facility, and retail/office space for lease. Originally constructed in 1918, the facility operated as one of Lansing's public schools until 1978. The building sat vacant from 1978 to 2008, when construction began to breathe new life into the facility.
The $4.1 million project is Old Town's first environmentally friendly "green" building with a gold rating – the second highest level – from the U.S. Green Building Council's Leadership in Energy and Environmental Design (LEED) program. DC Engineering was the Civil Site Engineer and Project Surveyor on the Cedar Street School Project. Responsibilities included property and design survey, design engineering, incorporating LEED credit templates for site elements, and construction layout.
The environmentally friendly site preserved the old growth trees and maintained existing grades across the old parking area. An existing retaining wall was saved to minimize the project foot print. Improvements feature a rain garden, bio-filtration swale, high solar reflective concrete pavement, and native plantings that will not require irrigation.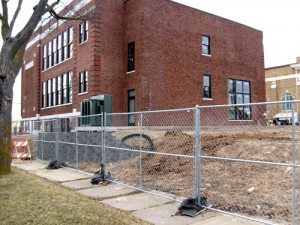 Limited property area of the City School presented a challenge for the storm water system. To meet the challenge, the system design combines rainwater harvesting, a grassy swale and rain garden, a swirling concentrator and sub-surface detention. This storm system provides over 30,000 gallons annually of harvested rain water for building toilet water. The system will remove over 80% total suspended solids prior to discharging to the City's storm water system.